Vanity Ticket
Vanity Tickets
Vanity Tickets are provided through a repeatable quest that can be taken in Ameresh.
Vanity Tickets can be used to customize the art for your character. You can change armor, clothing, and weapons to look like other items. The layering of the items you modify does NOT change.
Requirements
12 Mithril Ingots
1 Flawless Diamond
5 Green Thorns
2000 Gold Coins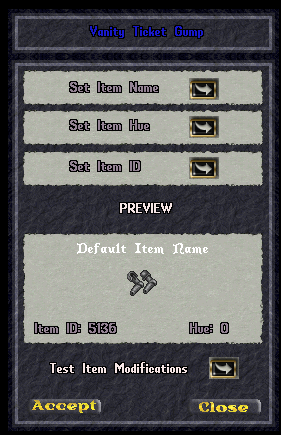 You can set:
The ID
The Item Name
The Hue
There is a test button at the bottom of the gump that lets you test the item to ensure it is actually what you want before you finally accept.
It is recommended that you use an external program such as UOFiddler or InsideUO to examine items and find things that match what you are looking for.
It is possible to find ItemID's and Hues through the ]WhatIsIt command in-game.